GALLERY
a sampling of our custom architectural metal work
explore individual projects below
Presidio Heights Bronze railing
Four-story switchback stair with patinated bronze cap rail, Painted steel pickets, cold rolled steel flatbar. Private residence, San Francisco
Architect: Sutro Architects. Contractor: Upscale Construction. Photography: Jenn Chan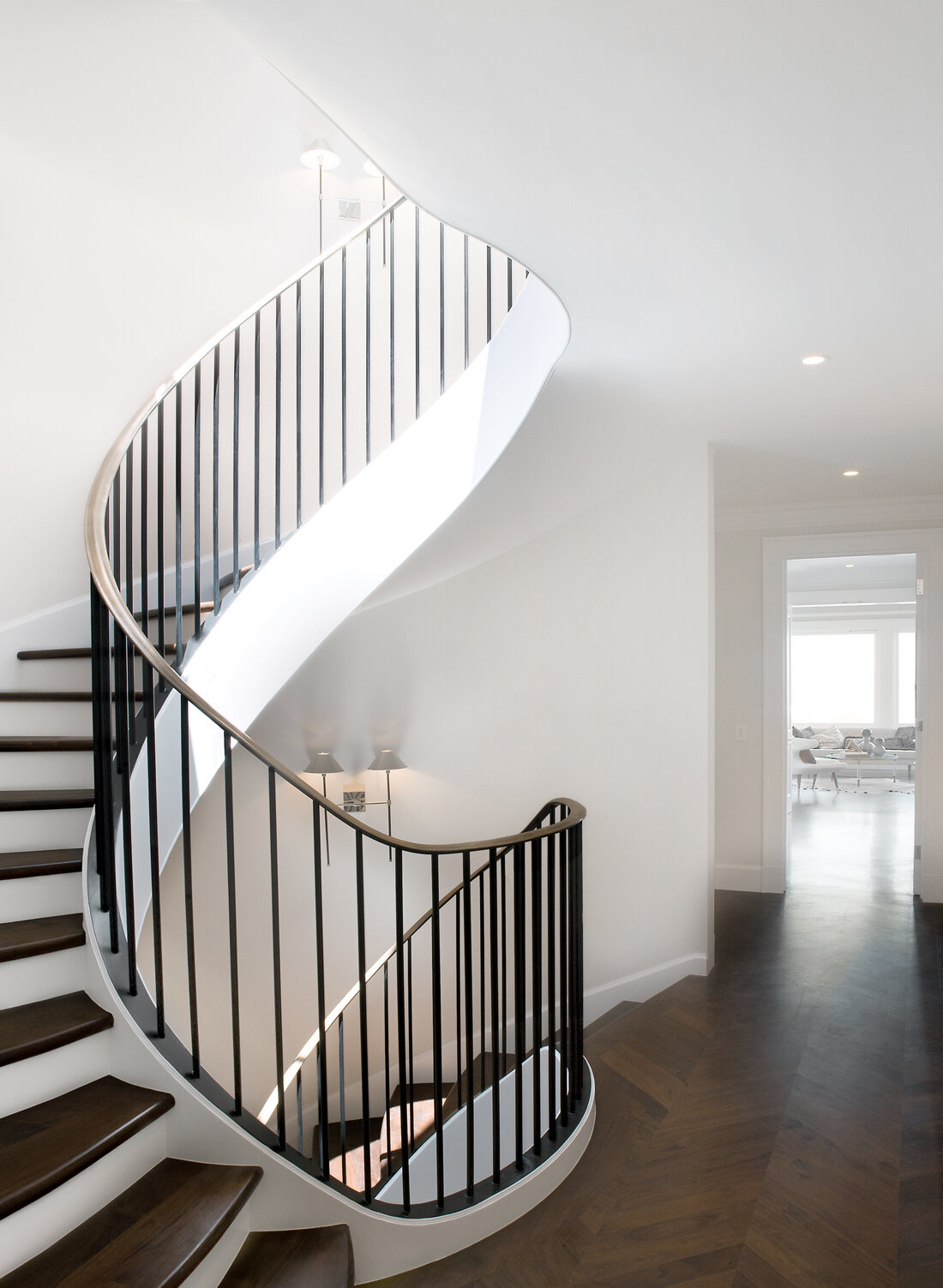 COMPLETE REMODEL OF HISTORIC PACIFIC HEIGHTS private RESIDENCE, FOR WHICH WE CRAFTED A CENTERPIECE FIVE-STORY ELLIPTICAL SPIRAL BRONZE CAP RAILING, COURTYARD AND TERRACE RAILINGS, ROOFTOP DECK GLASS RAILING, INTERIOR GLASS RAILINGS, AND MULTIPLE INTERIOR AND EXTERIOR HANDRAILS.
ARCHITECT: Sutro Architects. CONTRACTOR: O'Neill Construction. PHOToGRAPHY: Jenn Chan
Pacific Heights Contemporary
FOUR-STORY CONTEMPORARY GLASS RAILING, GEOMETRIC PAINTED STAINLESS STEEL FRONT AND SIDE ENTRY GATES, PAINTED STAINLESS BALCONY RAILINGS, CUSTOM BLACKENED STEEL KITCHEN RANGE HOOD IN GUT-REMODEL OF PACIFIC HEIGHTS PRIVATE RESIDENCE
architect: DomA Architects. Contractor: GGD, Inc. Photography: Jenn Chan
Contemporary handrails and railings in hand-fabricated blackened steel, with custom neck-down balusters. Private residence, Marina district, San Francisco
Architect: Aleck Wilson. Contractor: O'Neill Construction. Photography: Jenn CHan
Three-story racetrack spiral stair rail. Patinated bronze cap rail, blackened cold rolled steel, custom pickets. Private residence, Marina District, San Francisco
Architect: Armour+Vokic Architecture. Contractor: Upscale Construction. Photography: Jenn Chan
Helical brushed stainless steel cap rail and horizontal pickets for three-story spiral staircase remodel. Custom handrail terminations and stainless steel glass railing framing and hardware. Private residence, Mill Valley, Marin
Private Client. Contractor: Turner & Taylor Metal Works. Photography: Jenn Chan
Custom Blackened steel countertops and finishes lend slick industrial chic to a downtown restaurant / brewery's bar and dining room. tam commons, san rafael, california.
TAM COMMONS TAP ROOM AND BREWERY, SAN RAFAEL, CALIFORNIA. DESIGN AND CONSTRUCTION: TURNER & TAYLOR METAL WORKS. PHOTOGRAPHY: JENN CHAN